---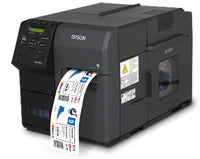 Sale

Epson TM-C7500 Label Printer (ColorWorks C7500) Print Your Own Beautiful, Matte Labels
Epson TM-C7500 Color Label Printer Matte Media COLORWORKS USB ETHERNET C31CD84011
C7500 - Color Inkjet Label Printer, 4", Rugged, for Matte Media, 4-Color, USB/Ethernet, Dark Gray, Power Supply
Description
The Epson ColorWorks C7500 Label Printer is aimed at businesses that require high-volume durable labels and who primarily want to print onto matte media including BS5609-certified GHS labels. 
Manufacturers can now reliably and cost-effectively meet their in-house labeling requirements with outstanding speed and quality. The Epson C7500 can also help eliminate the costs associated with pre-printed label inventories by producing short-run, custom labels on-demand.
Reliable & Consistent Results
The ColorWorks C7500 can help manufacturers produce consistent, high-quality labels in-house and on-demand. The Epson ColorWorks C7500 printer features the new PrecisionCore® printhead to ensure reliable, high-quality results. Epson?s dot substitution and unique Nozzle Verification Technology (NVT) help prevent dead pixels and misprints. PrecisionCore® has up to triple the nozzle density of conventional Epson piezo printheads. These nozzles are roughly 20 microns in diameter and deliver small, round, repeatable dots about 40 microns across. This dot precision is particularly important for creating sharp text and fine lines for applications such as barcodes. PrecisionCore® introduces a new system that uses the power of the piezo crystal itself to raise reliability. The piezo element is able to generate a voltage that can detect (in milliseconds) whether it is firing normally. It has the ability to self-diagnose itself almost instantly.
Cost-Effective
Printing labels on-demand helps eliminate costs associated with outsourcing labels, such as label waste and large label inventory. High-capacity, individual ink cartridges mean only the color used will need to be replaced, offering very low cost per print. The permanent PrecisionCore® printhead offers significant cost savings, and a guaranteed peace of mind as none of its major components will need replacing for at least 300+ miles worth of printing1.
Fast Print Speeds
Inch for inch, the high-resolution Epson print chips are one of the fastest inkjet printing technologies in the world. PrecisionCore piezo elements each fire nearly 50,000 times per second, producing a wide range of high-quality labels with print speeds of up to 59 feet per minute (18 meters per minute).
Minimal Maintenance & Easy to Use
With its LCD control panel, set-up is easy. Our newest printer command set, ESC/Label, allows integration with virtually any operating system. The device also comes with a full range of software utilities to support printer deployment. Nozzle Verification Technology (NVT) also helps to prevent clogged nozzles.
C7500 or C7500G?
Should you buy an Epson ColorWorks C7500 or C7500G? The answer depends on your applications. If you are not sure and want maximum flexibility, then always choose the C7500G as it will print on all media types (matte, glossy and more). The only advantage to the C7500 is that it yields a darker, truer black on matte media (the C7500 cannot print on glossy media). If you know that you will not need to print on glossy media and the appearance of black ink on matte media is important to you, then you should choose the C7500. Both the C7500 and C7500G are BS5609-certified2.
Key Features
Astounding image quality: PrecisionCore® inkjet technology and UltraChrome® DL inks from Epson delivers vibrant, accurate colors, smooth gradations, precise barcodes and ultra sharp text
Reliable performance: PrecisionCore® printhead provides consistent results and long printer lifetime
Save time & money: Streamline label production by printing your color labels on-demand
High speed & high print quality: Print multiple color labels with variable data at speeds of up to 59 feet per minute & image resolution of up to 1200 x 600 dpi
Low maintenance, reduced downtime: Permanent printhead and Nozzle Verification Technology (NVT) for self-maintenance
Durable labels: BS5609 certification means GHS labels won?t smudge, smear or fade

2

Seamless integration: built-in ZPL-II emulation with the ability to automatically merge color artwork from memory eliminates the need for pre-printed labels in traditional thermal transfer applications; plus built-in ESC/Label programming language for integration with virtually any OS enables use with your existing workflow and even add color with simple programming extensions