---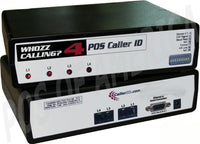 Caller ID Whozz Calling POS (Basic) for pcAmerica 4 Lines Serial
Caller ID only hardware for basic applications and Point-of-Sale Integration.
Compatible with pcAmerica Restarant PRO Express
RPE only works with the Caller ID BASIC Serial model. The Ethernet model it's not compatible with RPE
Basic Caller ID information for Pop-up screens. This device captures Caller ID time/date, name and number and indicates on which phone line the data is received. Units are available in 2, 4, and 8 line models with either Serial/USB or Ethernet connection..The choice of Domino's Pizza and many food service point-of sale (POS) solution providers to link Caller ID into delivery and take-out modules.
 
Typical Uses
Pop-up Customer Records

Even before answering a call, the customer's record can be shown. This allows employees a moment to review the client's information before responding.

Personalize Your Phone Calls

Having your customer's information in front of you allows you to tailor your conversation to their needs.

Save Time Taking Orders

Save precious seconds during peak hours by customers automatically being pulled up.
Call Back Unanswered Customers

Call back missed customers that hang up during busy times. The units logs all calls whether answered or not.

Build Your Prospect List

Software is available to "quick fill" new records with Caller ID names and numbers.

Identify Threatening Callers

Pinpoint caller record from the log file based on when they called and which line.
Hardware Features
Inbound Caller ID

Incoming call data includes phone line number; time, date, Caller ID number and name (where available).

Easily Select Options

Small ( 

 

DIP) switches on front of unit allow quick configuration for your application.

Never Miss Data

Individual microprocessors on each channel capture all data from simultaneous calls on multiple lines.

Large Installations

Four and Eight-Line Units can be chained together to monitor up to 32 phone lines into one computer network.