---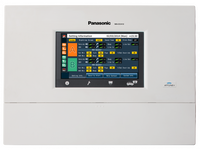 Sale
Panasonic's Attune II digital drive-thru system has unmatched sound quality, reduces order errors, and eliminates the need to reconfirm an order. The system includes increased Digital Noise Reduction (DNR) that can remove both constant and fluctuating noise, improved echo cancellation and volume control. While many conventional digital drive-thru order-taking systems operate on the unrestricted 2.4 GHz band and are subject to interference from other devices, Attune II operates on the restricted 1.9 GHz band with a new DECT repeater. This provides for clear, reliable, interference-free communication with an increased range and eliminates bulky antennas. Additionally, no FCC licenses are required for operation.
What's included:
(1) Base Station Dual Lane, (1) Bracket, (1) Power Cord
Brand: Panasonic
Product Type: Base Station
Compatibility: Panasonic Attune II Drive-Thru System
Unit Size: 14.5 x 10.5 x 2
Weight: 4.2 LBS
Features:
Excellent DSP to reduce both inbound and outbound noise. Touchscreen for easy settings. Dual lane functionality. Camera integration. Supports up to 32 Headsets/Belt Packs. Ability to answer landline phone calls.