---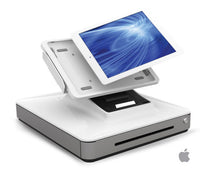 ELO PAYPOINT FOR IOS POS SYSTEM, SUPPORTS 9.7-INCH IPAD AND IPAD AIR, 2" (50.8MM) RECEIPT PRINTER, 1D BARCODE SCANNER, 4X5 CASH DRAWER, 3-TRACK MSR, CUSTOMER FACING DISPLAY, WHITE

Works with Apple iPad, iPad Air (not included)
Aldelo Express is free with an Aldelo Pay Subscription
POS Software its not included.
Aldelo Express is an easy to use iPad POS software complete with 24/7 Aldelo tech support. The app is designed for easy peasy setup with zero computer experience required. You can get your POS setup in 10 minutes or less. No servers or additional computers needed, just use your existing iPad.
Aldelo Express is great for both table service and quick service operations. When used at table service restaurants, we support visual floor plans and table management, guest reservations and waitlists intuitively. Best of all, advanced features such as these are all free of charge.
Restaurant POS operations are mission-critical and complex. Operations like modifiers, pizza ordering, and complex menus increase staff training requirements and lower productivity. Aldelo Express helps simplify modifiers, pizza ordering and complex menus with a super easy ordering experience like no other.
Aldelo Express simplifies delivery service operations. Seamless integration with Caller ID, visual map integration built right into the app, driver dispatch control, and a host of other delivery features that enables a smooth delivery service experience.
Additional Features
Table Service POS ▪ Quick Service POS ▪ Bar & Club POS ▪ ​Take Out POS ▪ Drive Thru POS ​▪ ​Delivery POS ▪ Hostess Features ▪ Reservations & Waitlists ▪ Customer Tracking ? Driver Dispatch ▪ Integrated Caller ID ▪ Integrated Maps ▪ Intuitive POS with Offline Abilities ▪ Split & Combine ▪ Seamless Payment Integrations ▪ Discount, Surcharges & Gratuity ▪ ​Time Clock & Scheduling ▪ Inventory, Recipes, and Much More
Aldelo Pay Credit Card Processing
New to the Aldelo family is their very own Aldelo Pay merchant processing. The most forgotten aspect of a point of sale system is Merchant Processing or how credit and debit cards get securely charged/processed during checkout. With Aldelo Pay you can rest assured that your transactions will be processed smoothly and any issues you have will be handled swiftly as Aldelo Pay was designed specifically for Aldelo POS Software. If you have another processor you would like to use with your Aldelo Express software a gateway fee and other fees will apply after your software purchase.