---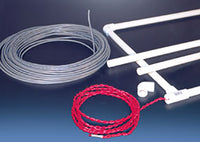 Sale
The five-turn, PVC-encased, 865 Preformed Loop vehicle detector is designed for on-site installation prior to pouring pavement material. The 865 Preformed Loop is ideally suited for drive-thru applications when used in conjunction with the 917-1S Vehicle Detector. Because it is self-contained, the 865 Preformed Loop greatly reduces installation time.
Measures 18 inches by 54 inches.
Includes five turns of #16 insulated machine tool wire.
48-inch extension to extend loop beyond curb.
11-inch extension and 90-degree elbow to extend into menu board/speaker post.
Encased in schedule 40 PVC material.
Sealed with 100% silicone sealant to prevent water infiltration.
10-foot wire pigtails from loop.
Loop installation instructions.
5-year warranty.