---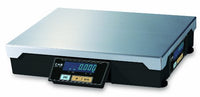 PD-II / PD2 POS Check-Stand Scale with Dual Scale Display 15 LB
pcAmerica certified  PD-2Z 15lb
PD2 POS Interface, check stand Scale connects with cash registers or POS systems. PD2 / PDII scales are used in supermarkets, cafeterias, specialty stores, and other retail & food service environments.

PD-II scale features dual scale display, stainless steel platter, auto range and auto zero tracking.

INTERFACE CABLE NOT INCLUDED.
NTEP # 92-174A4 - Legal for Trade
TE-2200
TE-2400
TE-3000
TE-3200
TE-4500
TE-7000S
TE-8500F
SPS-500
SPS-2000
ER-285M
ER-650
ER-650R
ER655II
Comcash
pcAmerica
Red River POS
National Computer Corporation, Inc
Tiger POS