---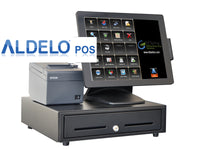 TOUCH DYNAMIC, PULSE ULTRA WITH 15" PCAP TOUCH SCREEN INTEL CELERON J3455 2.3G FANLESS, 4 GIG RAM, 128 GIG SSD, WIN 10 IOT (64 BIT), MSR Bundle with Printer, Cash Drawer and Aldelo POS PRO
P53GMA1N-00NNNNNB-AL
The Pulse Ultra All-In-One offers a variety of add-on options including integrated MSR 
Pulse Ultra All-In-One, TOUCH DYNAMIC, PULSE ULTRA WITH 15" PCAP TOUCH SCREEN INTEL CELERON J3455 2.3G FANLESS, 4 GIG RAM, 128 GIG SSD, WIN 10 IOT (64 BIT), MSR
ALDELO POS PRO License, Epson Thermal Receipt Printer and Cash Drawer Included!
Brand new
3 years warranty
Ideal POS Solution for Table Service & Quick Service Restaurants
Aldelo For Restaurants Pro Edition is a low cost, feature rich and easy to use total restaurant management software for table service and quick service restaurants.
Aldelo For Restaurants contains the feature set to support any restaurant environments. Whether your restaurant is a coffee shop, a steak house, a bar & grille, a pizza restaurant, a cafeteria or any other food service establishments, our solution can help streamline your operations by custom tailor to your requirements.
Reliable Solution Proven in the Industry
Aldelo For Restaurants is well received in over 20,000 installations around the world due to its flexibility, ease of use and completeness. Additionaly, our solution is Microsoft Windows XP verified since 2003.
Feature Complete & Easy to Use
Aldelo For Restaurants does not require its users to know about computers in order to use it. In less than a few minutes of tutorial, your staff will be able to start using Aldelo For Restaurants like a pro.
You will greatly reduce staff training expenses with our user friendly screen designs. Best of all, Aldelo For Restaurants is a complete package with POS, Hostess, CRM, Inventory, Labor Control and much more, all included without additional charges.
Key Product Features
100% Touch Operated Point of Sale
Visual Floor Management
Complete Hostess Features such as Reservations, Waiting List & Guest Paging
Advanced CRM such as

 Gift Card

, House Account, Frequent Buyers
CallerID Integration, MapPoint Integration, Coin Dispensor Integration
Labor & Scheduling Management
Menu Recipe Control & Complete Inventory Management
Payment Processing Integration
One Touch Order Split & Combine
Multiple Check Tender Support
Multiple Kitchen Routing Destinations
Ready for Online Food Ordering Integration
Ready for Kitchen Display Integration
Ready for Fingerprint Authentication Integration
Ready for Liquor Dispensor System Integration
Ready for Hotel/Resort Room Charge Integration
Extensive Management Reports
And much more all included in the standard package!
Simplify Daily Management & Streamline Operations
Aldelo For Restaurants is a solution that may dramatically streamline your daily operations, retain guest loyalty and increase repeat business.
In the world of complex restaurant operations, simplify is the key to your success. Aldelo For Restaurants is designed to help you simplify operations and maximize efficiencies.