---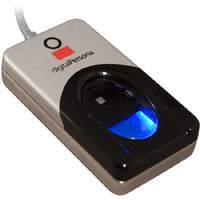 DIGITALPERSONA, U ARE U 4500, READER, FINGERPRINT READER, NO SOFTWARE, USB DEVICE WITH CABLE

DigitalPersona U.are.U 4500

Easy to install and use; the many benefits of fingerprint biometrics start here. The U.are.U 4500 Fingerprint Reader is a USB device, built on the latest optical fingerprint reader technology. Its compact and attractive design conserves desk space in enterprises, its professional modern appearance looks elegant in point-of-service environments, and its ability to read a fingerprint from any angle makes it ideal for applications where users share PCs.


The U.are.U 4500 Reader is a USB fingerprint reader featuring an elegant, sleek design with a soft, cool blue glow and, of course, the unsurpassed performance DigitalPersona is known for. Made for power-users and shared environments, the 4500 is the natural choice for those that want and need the very best.









U.are.U 4500 Features

Here?s a look at just some of its features and benefits:



Blue LED

Soft, cool blue glow fits into any environment. Provides a pleasing presence; doesn't compete in low light environments, such as restaurants, or conflict with alarm condition colors, such as in healthcare.

Small form factor

Conserves valuable desk space.

Rugged construction

High-quality metal casing weighted to resist unintentional movement.

Special undercoating

Stays where you put it because of a special undercoating.

Rotation invariant

Touch it from any direction, it still provides a high quality image and matching performance, perfect for shared environments.

Excellent image quality

High-quality optics ensure best image every time.
Works well with dry, moist, or rough 
fingerprints
Reliable performance over the widest population of users. Reads even the most difficult fingerprints.




U.are.U 4500 Technical Specifications

| | |
| --- | --- |
| Device name | U.are.U 4500HD Reader |
| Manufacturer | DigitalPersona, Inc. |
| Device connection | USB 2.0 |
| Supported OS (1) | Microsoft Windows (32-bit and 64-bit) |
| Sensor resolution | 512 dpi |
| Image capture area (Platen size) | 15 x 18 mm (0.6" x 0.7") |
| Sensor type | Optical |
| Illumination | Blue LEDs |
| Device size | 65 x 36 x 16 mm (2.6" x 1.4" x 0.6") |
| Operating temperature | 0°C ~ +40°C |
| Operating humidity | 20-80 % (non-condensing) |

(1) These operating systems are supported by Neurotechnology SDKs. 
Device manufacturers may have different lists of supported operating systems.

Back to the top of this page


Product Compatibility

The U.are.U 4500 Reader is compatible with many different software development kits and applications.  Below is the list of products that are currently known to support this scanner.  Please note that some applications and development kits require specific versions of the drivers to be installed. Please contact us if you need additional information.


Supported Software Development Kits:

VeriFinger Standard and Extended SDK
MegaMatcher Standard and Extended SDK


Supported Applications:

FbF(TM) Device Listener
Scan & Pin



Fingerprint Readability

Fingerprint scanning is affected by a variety of factors, some that can be controlled and others that cannot:

Age

 - As people age, they lose collagen which makes their fingerprint harder to read.

Occupation

 - Manual laborers can sometimes wear down fingerprints on one or more fingers.

Ethnicity and Gender

 - Some women and ethnicities have very faint fingerprints.

Environment

 - Extremely dry environments cause fingers to become dry.

Hygiene

 - Frequent hand washing or use of hand-sanitizers can dry out the skin, making fingerprints harder to read.

People with difficult-to-read fingerprints may wish to press slightly harder, hold their finger on the reader slightly longer, touch their forehead before touching the reader (skin oils aid in readability) or register and use one of their other fingers. 

Taking Care of Your Fingerprint Reader

The fingerprint reader, while tolerant of residues left on the reader, performs optimally when kept clean!

Cleaning U.are.U Readers

Apply the sticky side of a piece of adhesive cellophane tape to the window, and then peel it away, OR 
Gently dab the fingerprint reader window with a cloth that has been dampened with a mild ammonia-based glass cleaner, such as Windex. (Do not use paper!)



Protect Against the Risk of Damage to Your Fingerprint Reader

Do not pour any liquid directly on the reader window.
Do not use alcohol-based cleaners.
Never submerge the reader in liquid.
Never rub the window with an abrasive material, including paper.
Do not poke the window coating with your fingernail or any other item, such as a pen.

Proper Use of Your Fingerprint Reader

Most of the unique, repeatable fingerprint information is located in the "pad" of your finger, not in the "tip". Flat finger placement as shown below will result in fast and accurate fingerprint authentication