---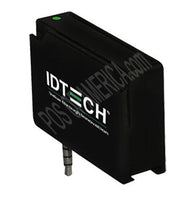 Sale
UniPay, Mobile Audio Jack MagStripe and Smart Card Reader
IDMR-AJ80133
Size: 60mm x 56.5mm x 16mm
Color: Black
Interfaces: 3.5mm stereo audio jack
Compact Magnetic Stripe and Smart Card Reader
ID TECH?s UniPay is the latest addition to the audio jack family of mobile card readers.  UniPay incorporates contact chip, smart card reading, with proven and reliable magnetic stripe decoding which results in a compact mobile reader.  Its small form factor and audio jack interface is ideal for mobile applications where either magnetic stripe and/or smart card reading are required.
Mobile Form Factor and Audio Jack Interface
ID TECH?s UniPay communicates to the host via the audio jack port and is supported on Apple and Android platforms with an SDK, to allow for simple and easy integration into mobile payment applications.  Also featured, is a USB port which can be used for charging or communication with a PC.  The UniPay?s efficient design minimize power consumption to the host device battery life.
Payment Certification
UniPay is EMV Level 1 approved and uses DUKPT Key management and TDES/AES encryption to ensure magnetic stripe and smart card transactions are encrypted and transmitted securely to the host device.
Features:
Audio headphone jack communication for the latest Apple iOS and Android platforms
EMV Level 1 approval
RoHS 2 and REACH compliance
TQM Label
Low power consumption when reader is in standby mode
Compact and ergonomic design to integrate with a variety of mobile devices
Encrypted MSR and chip card reader with DUKPT key management
Micro-USB port for pass-through charging and PC communication