---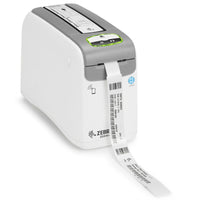 Sale
The ZD510-HC Wristband Printing solution combines the reliable ZD510-HC direct thermal printer with easy-to-load cartridges containing the only antimicrobial-coated wristbands on the market?Zebra's Z-Band® wristbands. 
ZD51013-D01E00FZ
ZEBRA AIT, PRINTER, ZD510-HC, USB HOST, ETHERNET (10/100), BTLE, NALA POWER CORD
INCREASE STAFF PRODUCTIVITY AND PATIENT SAFETY WITH THE INDUSTRY'S EASIEST TO USE AND MOST DEPENDABLE WRISTBAND PRINTING SOLUTION - THE ZD510-HC*. 
   Fast loading wristband cartridge - pop it in and print.
   Compatible with leading ADT systems.
   Easy migration - no matter what kind of wristband printing solution your customers have.
   Z-band Wristbands are up to 6x more durable than other wristbands, and come in a wide range of colors and sizes.
   Easy to clean and sanitize.
   Medical grade power supply and a quiet operation so it won't disturb patients.
   HIPAA compliant and protects sensitive patient data with PrintSecure.
*The ZD510-HC is also capable of printing wristbands for amusement parks, waterparks, and other entertainment applications.