---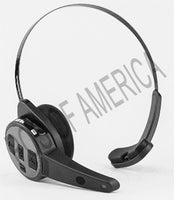 Sale
The new Attune II HD3 headset was designed to bring voice clarity to one of the harshest commercial industries. With over 70% of a quick service restaurants sale handled via the Drive Thru model, being able to clearly communicate with the customer equates to profits. For over 30 years, Panasonic has built one of the best technologies to support this primary objective. With numerous patents in the audio and telephony industries, Panasonic has incorporated this technology in the drive thru market to continue being the technology leader for the QSR market.
The new Attune II HD3 headset has a three-mic array to actively cancel ambient noise. Combined with the digital noise reduction (DNR) in the latest software release for the WX-CC411/412 brings high voice clarity for both inbound and outbound audio. Customer and crew will be able to hear each other clearly which equates to high order accuracy and higher throughput in the drive thru.
With the release of the WX-CH455 headset and WX-SB100 battery, Panasonic is also announcing the discontinuation of the WX-CH450 headset. The WX-CH455 is compatible with the WX-CH450 with the exception of the battery. The WX-B3030 battery will continue to be available. WX-CH450 headsets will be limited to stock on hand.
Benefits of the new Attune II HD3 headset:
Lightweight ergonomic design
Under 100g
3 Microphone Array DNR
One mic listening to the surrounding noises, one mic listening for burst noises and one mic listening to the crew member delivers active DNR and the clearest possible voice clarity.
Fewer buttons bringing simplicity
Four buttons mean a shorter learning curve for crew. Talk, Page, Volume and Lane Switch.
Colored designation tag
We have added a colored tag feature to all the users to distinguish the usage of each headset. Example: Manager headset, Regional Manager headset, Lane 1 or Lane 2.
New strong, light weight, black headband
Strong yet light headband allowing for hours of comfort
Black in color allows the band to less noticeable to the customer
Rubber ear pads
We use rubber instead of foam, which allows for a longer life and the ability to wash/disinfect between shifts.
Micro USB programming
Programming for less frequently used functions can now be done on a PC with a Micro USB cable.
Programming can be done at the staging site or store site without the need to connect to a center module.
Available consumable parts
Consumable parts allow the user to replace the parts instead of having it shipped in for repair.
Headband, rubber ear pad, rubber head pad and batteries are available
Removable battery